Be Thou My Vision
(Sacred Music by John Rutter)
John Rutter
- Collegium Records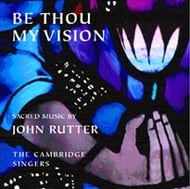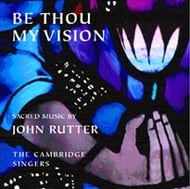 Be Thou My Vision
(Sacred Music by John Rutter)
John Rutter
- Collegium Records
This CD collection includes many of John Rutter's church anthems and other sacred pieces, representing his most requested shorter choral works. They are performed by the Cambridge Singers, conducted by the composer. Included are:
Be Thou My Vision; Open Thou Mine Eyes; I Will Sing with the Spirit; A Gaelic Blessing; Wings of the Morning; All Things Bright and Beautiful; As the Bridegroom to His Chosen; A Prayer of Saint Patrick
(the Benediction of
Call to Worship and Benediction
)
; Loving Shepherd of Thy Sheep; Look at the World; The Lord Is My Light and My Salvation; Lord, Make Me an Instrument of Thy Peace; I Believe in Springtime; A Clare Benediction; For the Beauty of the Earth; The Lord Bless You and Keep You.
Copyright: : ©2003
Select a Product
Customers Also Bought
Full Song List
LOOK AT THE WORLD
LORD IS MY LIGHT AND MY SALVATION
LORD MAKE ME AN INSTRUMENT OF THY P
I BELIEVE IN SPRINGTIME
A CLARE BENEDICTION
FOR THE BEAUTY OF THE EARTH
THE LORD BLESS YOU AND KEEP YOU
BE THOU MY VISION
OPEN THOU MINE EYES
I WILL SING WITH THE SPIRIT
A GAELIC BLESSING
WINGS OF THE MORNING
ALL THINGS BRIGHT AND BEAUTIFUL
AS THE BRIDEGROOM TO HIS CHOSEN
A PRAYER OF SAINT PATRICK
LOVING SHEPHERD OF THY SHEEP