Joy in the Morning
(Virtual Choir Resource Kit)
Natalie Sleeth
- Hope Publishing Company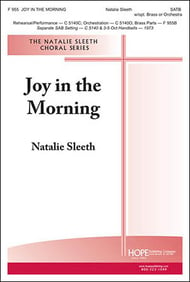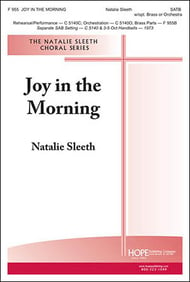 Joy in the Morning
(Virtual Choir Resource Kit)
Natalie Sleeth
- Hope Publishing Company
A classic and joyful anthem that has sold over one million copies, this SSA voicing is now available as a Virtual Choir Resource Kit.
Virtual Choir Resource Kits give you everything you need to rehearse, record, mix, and edit a virtual choir video. Streaming licenses are included. The video and audio files can also be used for choir members to rehearse at home, so when you are able to perform together your choir members will be fully rehearsed and prepared.
Contents: ten videos (two downloads and links to eight on YouTube; seven MP3 audio files; a PDF of the anthem to share with your choir; a Word file of the lyrics; instructions for your choir members on how to record themselves; and permission to share all the resources with your choir, use them to make a video, stream your video, and post it online.
Includes links to a full SSA video and three part-dominant videos, one for each part. Each part is mixed separately so that one part is louder than the others. Each shows the music as well as Joel Raney conducting, which will be extremely helpful in keeping everyone together on entrances and cut-offs.
There are performance versions of these same videos which can then be used for recording. Each includes lead-in instructions explaining how choir members should record themselves. Note: These resources may only be shared with members of your choir.
You also get downloads of the video of Joel Raney conducting and a lyric video to use in your edit.
Mp3 audio files include 3 voice dominant recordings; a stereo vocal mix; a stereo accompaniment-only; and a split-track (one channel is the accompaniment and the other is voices only). The split-track mix gives you the option to use some of the demo recording voices to help equalize your final vocal mix.
Example of a rehearsal & lyric videos: https://youtu.be/eHiD8YzsSMw
Select a Product
Customers Also Bought